The Books Our Team is Loving This Month


by Ashley Ward
At Hire for Hope, we never stop striving for better. Our team is dedicated to learning all that we can to be better leaders, talent experts and agents of growth for our organization and the businesses we serve. Here are a few books that we've been reading lately that we highly recommend!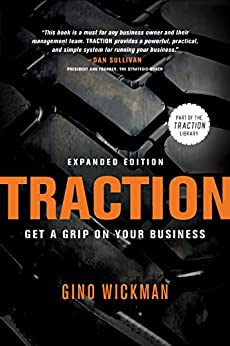 Traction by Gino Wickman
Traction is my business bible! This book is a company roadmap to success. From the inception of Hire For Hope, I have followed EOS (entrepreneurial operating system). We are also endorsed by a Michigan-based EOS Implementer, Ken Bogard, for referrals of Visionaries to help them recruit and hire Integrators. At the top of each business, the EOS model requires a Visionary (the fast-paced, risk-taker and ideas person) and an Integrator (the execution!). Every great CEO becomes even better with the compliment of a methodical COO by their side. One of Hire For Hope's specialties is finding that key individual for Visionaries.

How to Be a Great Boss by Gino Wickman
How to Be a Great Boss is a complementary book to Traction that coaches leaders on how to manage effectively and hold people accountable. This book helps round out my EOS toolset and gives additional information and context to this approach. It helped me get the most out of my people and improve my organization's performance. This is a simple, quick read for entrepreneurs who want to be great leaders.

Further Faster by Bill Flynn
Many people who have read this book say that they wish more managers and business leaders would read this. This book helps remind managers to be empathetic and view their people as emotional beings who need care and attention. This is another book that has been instrumental for me in developing processes and organizing teams. It also gave great exercises that give actionable steps to take with your staff and take the guesswork out of growth.
https://hireforhope.com/wp-content/uploads/2021/02/February-Reading-List-Feat.png
400
400
hireforhope
https://hireforhope.com/wp-content/uploads/2019/05/hf-bb-01-1030x1025.png
hireforhope
2021-02-18 04:32:44
2021-02-18 04:32:44
Currently Reading